Our story
Throughout our business, we aim to employ the best people and deliver the best products and services. In doing so we can deliver the experience our clients and brokers need and want.

That's why we're always delighted to receive industry recognition through awards and surveys that have been voted for and judged by stakeholders in the market.

As a global insurer, we take our responsibility to lead the market seriously, so we sit on various industry committees and associations.
Our awards
Publication

Award Name
Virtual London Market Award for Diversity and Inclusion
Business Line/Category
Diversity and Inclusion
Award Winner
Jaya Handa, Privacy Director, Counsel & Internal Audit Legal
Publication

Business Line/Category
Professional & Financial Risks
Award Winner
Tim Bugg, Principal Risk Engineer
Publication

Award Name
Diversity and Inclusion, London Catastrophe Modelling Award
Business Line/Category
Exposure Management
Award Winner
Lauren O'Rourke, Catastrophe Modelling Manager
Publication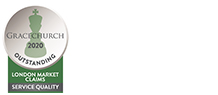 Award Name
Gracechurch Service Quality Marque (SQM)
Business Line/Category
Claims Team
Publication
Business Line/Category
Award Winner
Alexandra Paton, Underwriting Manager - Financial Risk Solutions
Publication

Award Name
Top-ranked D&O underwriters
Business Line/Category
Directors & Officers
Award Winner
Emma Pearce, D&O Manager
Publication

Award Name
Top-ranked D&O underwriting companies
Business Line/Category
Directors & Officers
Publication

Award Name
Marketer of the Year
Business Line/Category
Marketing
Award Winner
Paula Wilson, Head of Marketing
Publication

Award Name
Claims Professional of the Year
Business Line/Category
Claims
Award Winner
Scott Kellers, Deputy Head of Claims and Head of Syndicate Claims
Publication

Business Line/Category
Property Binders
Award Winner
Kerry Hall, Underwriting Manager
Publication

Award Name
Top 10 London Market underwriters
Business Line/Category
Cyber
Award Winner
Matthew Hogg, Underwriting Manager – Strategic Assets
Publication

Award Name
Top 10 London Market underwriters
Business Line/Category
War & Political risk
Award Winner
Peter Sprent, Head of Financial Risk Solutions & Huw Owen, Head of London Markets, Financial Risk Solutions
Publication

Award Name
Top 10 London Market underwriters
Business Line/Category
Overall
Award Winner
Peter Sprent, Head of Financial Risk Solutions
Publication
Business Line/Category
Award Winner
Kadidja Sinz, Head of Europe
Publication

Award Name
Influential Women in Re/insurance
Business Line/Category
Award Winner
Kadidja Sinz, Head of Europe
Publication

Award Name
Most trusted to deliver on promises
Business Line/Category
Award Winner
LSM Australia