One month in: The first steps as a Liberty Graduate by Emma White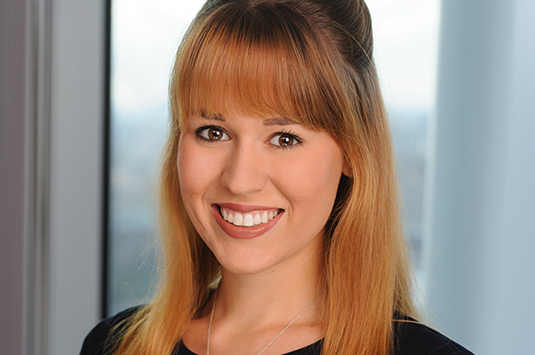 Sitting around a board-room table, I took another sip of water to compose myself and glimpsed out of the glass-windowed wall at the panoramic views of London. Around the table with me sat eight other young professionals, similarly glancing, nervous but excited for the days, weeks, months and careers ahead. Thankfully, I had not fallen into a reality TV show, but the Liberty Academy Graduate Scheme, and the scene outside was not an artist's impression in a studio, but Liberty Specialty Markets' office views at 20 Fenchurch Street, more commonly known as The Walkie Talkie. Countless applications, interviews and presentations later, we had made it to the City, and the world of insurance acronyms, networking and the London Market was about to reveal itself.
With aching cheeks from smiling and firm handshakes, we introduced ourselves as the 2016 intake of graduates and school leavers. Amongst us, we were diversely spread across the company; exposure management, actuarial, claims, operations and risk management to name a few. Differing from other schemes in the insurance market and beyond, the Liberty Academy strives to give their trainees an extended role in a real team, with various secondments around the company, yet regularly returning to a 'primary' placement. These valuable secondments expose us to various aspects and lines of business that we may never otherwise encounter, or even be aware that Liberty would insure. Who knew that in the same building that I sit in, we have individuals insuring celebrity body parts and precious paintings? It must not be forgotten that this is an industry largely based on face-to-face interaction and maintaining relationships, primarily between broker and insurer, but also on a broader network. Whilst you may sit at a desk all day in another industry, it is not uncommon here to have a meeting over lunch or a coffee amongst the bustle of Leadenhall Market. For this reason, our timetable of secondments are not set in stone; it's up to us to find areas we want to explore, and set up links within them. This is a scheme with a real role, responsibilities, and the capacity to set up connections on day one that could span a lifetime career.
With first morning introductions out of the way and postures relaxed, nerves quickly became a thing of the past. It was quickly apparent that this was not the typical 'first day at work'. Or the first week of work for that matter.
With the wealth of knowledge and guidance from Sam and Antonia in the Learning and Development team, the induction week included presentations from multiple sectors across the organisation, from strategy and reinsurance, to company benefits and the history of Lloyd's. We were given advice on what to wear and how to conduct ourselves as well as important tips such as the unbeatable breakfast in the canteen on a Friday. There was a friendly competition in the form of a treasure hunt around the city to orientate ourselves in this new world and our new surroundings. I felt lucky to call myself a graduate in an industry with Lloyd's of London at its core, and the prestigious and traditional connotations tied to the market place. After countless introductions, sound advice from previous graduates, multiple networking opportunities and a few rounds of indoor golf, the induction was over, and our real roles awaited us.
Placed in Operations, my work has been diverse and stimulating, giving me an invaluable understanding of the 'underlying cogs' of the company and its corporate values. A morning may be spent giving assistance on jobs relating to changes in the company, providing vital insight into how these changes are managed, structured and implemented. Contrastingly, an afternoon may be filled with discussions surrounding Liberty's partnership with WaterAid, which raised over £50,000 last year, and planning the latest fundraising events to hit targets for the coming year. All are real duties and responsibilities, vital to the understanding of the business as a whole regardless of which path I pursue after the scheme.
And then the really fun stuff; the social side of things. I can't say I was expecting to be screeching Bonnie Tyler down the mic on a karaoke night, dueting with a colleague I had met just two weeks previously. Or be icing a cake brimming with Jammie Dodgers at midnight for a bake-off fundraiser the following day. Or signing a proud mum in as a guest up to the Sky Garden. Or revising for an exam for which I would receive a financial incentive for passing (if only university tuition fees worked that way round). Rarely a day goes by when an opportunity or social event doesn't ping into my inbox. Maybe I can't run the Marathon, learn French and read to a child in the local community simultaneously, but the offers are all certainly there. Not many people can go into work and have that waiting for them.
This is an organisation that strives to engage and initiate intelligent, good-natured and diligent young professionals into the London insurance market, nurturing their development and providing all the ingredients for us to progress and strive for success in an international insurance carrier. For the reasons I've already uncovered, as I'm sure others in the Liberty Academy would agree, I'm so grateful and proud to be a part of it.