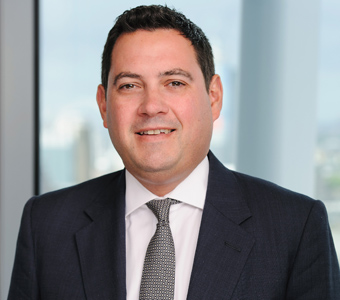 Matthew Moore was appointed President and Managing Director of Liberty Specialty Markets (LSM) in August 2017. He is responsible for the leadership, long term strategy, continued profitability and future success of the operation. Before his appointment to his current position, Matthew was Group Chief Underwriting Officer for LSM with responsibility for underwriting performance and profitability across around fifty lines of business both in London and internationally.
Matthew joined Liberty Syndicate Management (Liberty Syndicates) in 2001 from Miller Insurance Group where he was an Associate Director broking political, trade credit and financial risks.
During his twelve years with Liberty Syndicates, Matthew developed expertise in political and financial risks and contingency leading political violence, terrorism, confiscation and government non-payment policies, with a portfolio ranging from Azerbaijan to Zambia.
He became Chief Underwriting Officer of Liberty Syndicates in 2009.
In 2013, Liberty Mutual Insurance Group created a new operation, Liberty Specialty Markets, by integrating the Company's existing Lloyd's Syndicate, Liberty Mutual Insurance Europe and US-based Liberty Mutual Reinsurance. Liberty Specialty Markets is composed of three business units: Commercial, Specialty and Reinsurance. Its underwriting and claims teams are focused on providing high levels of service to brokers and clients alike; along with implementing plans for writing additional business and extending our product range.
Matthew is an Executive Director of Liberty Specialty Markets and a member of the Lloyd's Market Association Board.