From one graduate to another….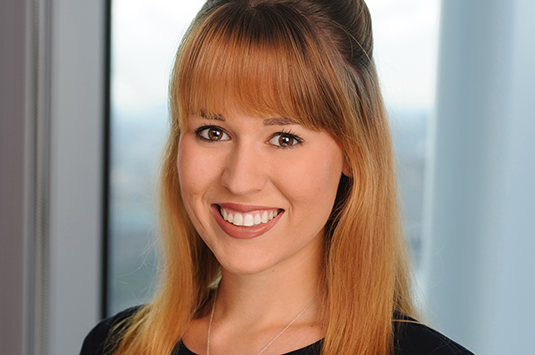 From one graduate to another: is the insurance industry really worth considering?
I've received a multitude of reactions when I've told people that I work in insurance. Many fellow graduates are impressed; curious to know more about a financial service industry that is becoming increasingly popular and is integral to the UK economy. Others return a slightly blank look and picture price comparison websites and sales representatives. The eyes of the young girl I'm mentoring in Tower Hamlets lit up when I finished my explanation of an underwriter's profession, and moved on to showing her a picture of the building we're situated in. And it's this which leads me to the question I'm asking myself as I begin to think about my ambitions for the year ahead and beyond.
Why aren't even more graduates coming to the City to embark on their career in this dynamic and innovative industry?
At the beginning of 2016, PWC released their annual report prioritising the need to continuously attract top talent to the industry and nurture these individuals in a performance-driven culture to produce the next generation of leaders. This is an industry that welcomes graduates with open arms and empowers them with global qualifications and opportunities. And in my view, Liberty Specialty Markets offers one of the top graduate schemes for these opportunities.
I've entered into an industry that by 2020 hopes to create more than 400,000 jobs in the UK and produces 25% of the UK's net worth. It also manages investments of £1.9trn and employs over 330,000 people.
And, most importantly, I've begun my career in an organisation that writes premiums of over $3,397m and is part of a US Fortune 100 Company, offering the stability and global reach on which the London Market prides itself.
This global reach has been visible from the first day I began the scheme. I sat amongst a team of international colleagues on my first project, individuals who had come to London on secondments, visits or permanent transfers from Boston, Dubai and Cologne to name but a few. With some perseverance, hopefully one day, the weekly French lessons Liberty arranges will enable me to communicate and open new opportunities with my French colleagues in Paris, a market rapidly growing. Sitting at the centre of a global industry, the largest in Europe and the third largest in the world, the London Insurance Market is the hub of this global profession. Surely that's worth considering?
Of course, in order to have the expertise and knowledge to participate in this international network, professional and personal development is key. With full support, the Liberty Academy has provided my colleagues and I with the vital ingredients needed to reach our potential and provide the very best starting point for a potentially lifelong career. Five months in and we have had Excel courses and external professional training sessions to introduce us to the industry as a whole, individual classes of business and Reinsurance. We've sat in law firms to listen to the latest panel discussions regarding the impact of Brexit on the Insurance Industry. We've analysed the reports of our Strength Deployment Inventory, vividly seeing on paper the ways by which we can use our strengths to improve interactions with others. And, most importantly, we've obtained our first Insurance Certification to aid our understanding of the industry's core principles.
The most commonly spoken attraction to an insurance graduate scheme you'll hear is the work-life balance. But my experience on the scheme and of the industry has been more than that. As an operations graduate, the responsibility in projects and assignments I've been given by senior members of staff is thrilling and exciting. I am challenged, questioned and consulted on topics I never knew existed six months ago. My knowledge has expanded as I second and shadow claims teams, actuarial divisions and various insurance products I'm curious to understand further.  I can consult with knowledgeable and skilled professionals on events I would like to see in Liberty's calendar and meet established individuals to discuss the paths I should consider within the industry. One can only hope the opportunities and challenges I've faced are representative of an industry driven to nurture and dare a new generation of Millennials to be the very best versions of themselves in a growing sector.
And so as the half way pivotal point in the scheme approaches, new opportunities, ambitions and connections are made, and with each day a new acronym and insurance term joins the list. With much still to learn about this rare industry, challenges will continue to present themselves throughout the scheme and beyond… but maybe it's this reason in itself that makes the Academy, Liberty and the Insurance Industry itself most exciting of all.